Here's Where You Can Buy Jigsaw Puzzles In Singapore 2021.

(crossroads jigsaw puzzle by cloudberries)
Demand for jigsaw puzzles has gone sky-high thanks to the Coronavirus stay-home period worldwide.
But that's not the only reason for puzzling.
Doing jigsaw puzzles have other benefits like improving spatial-reasoning skills, memory, and also helps in coping with stress. It's also a lot of fun.
In this post, we compiled a couple of places you can buy jigsaw puzzles. Puzzle stores, department stores, stationery stores, e-commerce platforms and so on.
After that, we will also briefly cover the places where you can buy jigsaw puzzle frames at the end.
Let's jump right in.
E-commerce platforms
In our store, we provide an extensive selection of products from Howard Robinson, National Geographic, and Cloudberries, our puzzles aim to accommodate to the preferences of both children and adults alike.
For wildlife and animal lovers, our Howard Robinson puzzles is one among some of our animal puzzle collection that might satisfy you.
Adorable and animal pose for a selfie in a fun, eye-catching design. Wild animals, farm animals, mammals, sea creatures and even dinosaurs make up the images of these puzzles.
Other animal puzzles include the National Geographic as well as Animal Planet collections.
If animals are not so much your cup of tea, we have puzzles of DC Comics superheroes, Superman and Batman, and puzzles of space, planets, and galaxies.
For adults, Cloudberries may be the ideal puzzle. According to their website,
Cloudberries creates fun, design-led jigsaw puzzles especially for adults. We go beyond the usual boring designs and offer the kind of cool, handsome puzzles that you'll want to hang on your wall. We've put a huge amount of effort into making our puzzles the very best quality (they're made here in Europe with sustainably sourced board), and that's reflected in the great reviews we get from our customers.
The most popular design by Cloudberries is the 1000 pieces Gradient puzzle. With the sleek gradient transition, it is not difficult to see why.
Here is a time-lapse of the Gradient design puzzle by KarenPuzzles on YouTube.
We also provide other designs from Cloudberries.
Fauna, Symmetry, and Poolside designs are just some off the list. Their striking and bold designs are impossible to resist.
(symmetry and poolside designs by cloudberries)
Our Harry Potter puzzles include the 300-piece puzzles of Hogwarts Express and Hedwig with Hogwarts Castle, which provide a 3D lenticular effect, where the image pops out.
(4dpuzz.com)
Browse our Jigsaw Puzzles here:
https://www.natures-collection.com/product-category/educational-toys/jigsaw-puzzles/
---
Lazada, Shopee and Etsy
You can head to e-commerce platforms such as Shopee or Lazada for a wider selection of products in general or find items that cannot be found in stores.
If you don't mind purchasing from overseas, Esty is a good place to find products from independent creators.
Another upside is that you can clinch deals at prices lower compared to retail stores.
Do you know that you can also visit us on Lazada and Shopee?
Be sure to check us out on those platforms because you might be able to grab some pretty good deals there.
A fun challenge could involve trying the infamous impossible clear puzzle piece that has become viral online. Without pictures to easily figure out which pieces go together, it has become an ideal time killer during quarantine.
It is available in different difficulty levels, from easy to extremely difficult.
(today.com)
Or try a sphere version of the gradient puzzle if you're bored of the 2D version.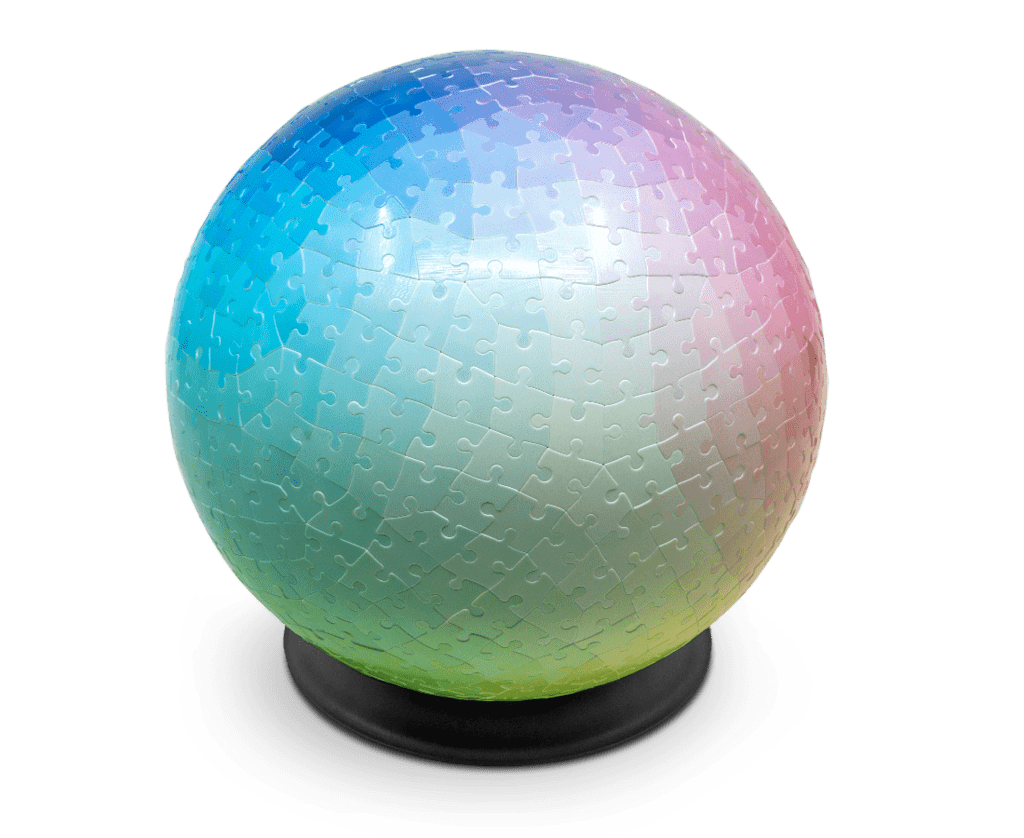 (printinlife.com)
For a greater coverage of places to purchase jigsaw online, do check out this article by The Smart Local
Jigsaw Puzzle stores
Perfect fit provides a wide assortment of puzzles to choose from.
They aim to provide a large range of designs to accommodate different ages and preferences, so you are bound to find something that you like.
Their puzzles range from 300 to 4000 pieces, depending on the difficulty level you prefer.
Neither do they only provide the traditional 2D puzzles. They also provide novelty puzzles, such as puzzle clocks, puzzle jars, flowerpots, keychains and many more.
You can find a wide array those as well as 2D puzzles over there.
(from clockwise puzzle jars, Landmarks of Singapore flowerpot, Winnie the Pooh puzzle clock from perfectfit.sg)
Location: Citylink Mall, Vivocity
Jigsaw Puzzle World, as you can tell from their name, also specializes in puzzles, so they too have a wide range of products.
You can find puzzles depicting landscapes of rustic countrysides to scenic mountains.
(image from jigsawpuzzleworld.com.sg)
They also provide puzzles of certain popular fictional characters, be it cartoons, movies, and Japanese characters like Rilakkuma and Hello Kitty.
For character-based puzzles, you can even build a 3D version of the character of interest.
(images from jigsawpuzzleworld.com.sg)
Customized puzzles are also available. You can customize the number of pieces, from 40 to 4000 pieces.
Do note that they do not have a physical retail store. They operate online, and walk-in purchases are possible with an appointment.
Location: 7 Toh Guan Road East, #02-07 Alpha Industrial Building, SG 608599
Toy stores
Toys'r'us is best known for its children's toys.
Sure enough, they also provide a fair range of jigsaw puzzles for kids. They come in different popular children's characters, such as Disney and Pixar characters, for your kids to choose from.
However, their jigsaw puzzles are not only limited to those suitable for kids, there's something for adults too.
Clementoni's Museum Collection are suitable for adults, having 500 to 1000 pieces, feature many well-known and much loved artworks by renowned artists.
(images from clementoni)
Locations: Waterway Point, Tampines Mall, Forum Shopping Centre, United Square, City Square Mall, Paragon, Suntec City, Great World City, Parkway Parade, VivoCity
Bookstores
Kinokuniya carries jigsaw puzzles from Flame Tree Studio.
The images use artworks from well-known artists, such as Van Gogh's Sunflowers, Hokusai's Great Wave, and Gustav Klimt's Kiss.
(images from Kinokuniya)
However, do check from Kinokuniya's website to ensure that there are available stocks if you plan to head down to buy, as some of these are currently only available for pre-order or are out of stock.
Being a Japanese company, they also feature a couple of puzzles involve popular tourist destinations and landscapes in Japan.
Puzzles are chosen from Tuttle Publishing, with photographs of some very scenic views of Mt Fuji, Tokyo Skyline, and Himeji Castle.
(Images from Kinokuniya)
Location: Bugis, JEM, Raffles City
NBC at Bugis Junction sells a pretty wide array of jigsaw puzzles.
You can find Howard Robinson 3D Selfie puzzles, as well as 300-600 pieces puzzles of landscapes and fantasy images.
They also have Studio Ghibli puzzles with movie stills.
There are also puzzle frames available in different sizes and colors if you are intending to frame your puzzle afterwards.
Location: Bugis, JEM, Raffles City
Lifestyle stores
Typo provides jigsaw puzzles for kids and adults alike, which are appealing due to their trendy designs and gorgeous illustrations.
(1000-piece food illustration puzzle by Typo)
(500-piece puzzle of Uluru from Typo)
(Floor puzzles for kids in different designs by Typo)
Locations: 313@Somerset, Anchorpoint, AMK Hub, Bugis Junction, Clementi Mall, Ion, Jewel, NEX, Parkway Parade, Plaza Singapura, Suntec City, VivoCity, Waterway Point, Westgate, Wisma Atria
Department stores
Isetan Scotts and BHG
Department stores such as Isetan Scotts and BHG also carry kids' jigsaw puzzles from Clementoni.
They include many Disney and Pixar characters, so your child could have a great selection.
Location: Isetan @ Scotts, BHG @ Bugis Junction, Lot 1, Junction 8, Clementi Mall, JEM
For a wider list of such challenging, time-killer puzzles, you can go to this article for more ideas
For puzzles in general, you can check out this New York Times article
Framing your Jigsaw Puzzle
Do you have a favorite puzzle? Are you reluctant to dismantle a puzzle you spent hours on?
If you are looking for a jigsaw puzzle frame, look no further than SGFrames.
With a wide range of frames to choose from, as well a large range of materials, sizes, and even designs, it is definitely a place to check out.
Here are more examples of their framed puzzles if you need them.
As mentioned earlier in the article, NBC Stationery also provides a decent range of puzzle frames.
If you wish to frame the puzzle yourself, fret not! Here are some possible articles that might be useful
That's all we have for now regarding our article about jigsaws.
Tell us below in the comments, where would you usually go to get your puzzles? Which places did we miss?
Have fun shopping!
https://www.natures-collection.com/wp-content/uploads/2017/03/NC_1200_01-300x113.png
0
0
pamela
https://www.natures-collection.com/wp-content/uploads/2017/03/NC_1200_01-300x113.png
pamela
2021-02-09 15:11:00
2021-08-13 11:01:40
Here's Where You Can Buy Jigsaw Puzzles In Singapore 2021.